1984 Audi 4000 quattro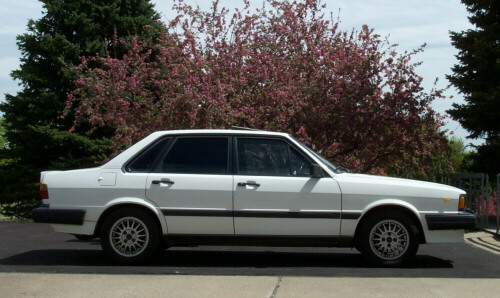 Specifications
2.2L 115hp SOHC 10v 5-cylinder (JT)
5-speed manual transmission (6E)
Quattro all-wheel-drive (locking center and rear diffs)
Alpine White (90E)
Brazil Brown cloth (FY)
14" silver Ronal wheels
Heated mirrors
Power mirrors, locks, front windows
Tilt/slide sunroof
General History
This car was originally purchased by my grandfather in Spring 1984. He gave it to me in 1997, and it was my first car.
After owning it for four years, my sister turned 16 and got her driver's license. Since I had the 100 (and didn't like taking the 4000 on the highway for fear of getting stranded), I gave it to my sister for driving around town in August 2001.
Unfortunately, this car met its demise in March 2002, after 149,246 miles, and it's now cruising the infinite Autobahn in the sky. I'm currently in the process of disassembling it, primarily to better understand how the car goes together. If, however, you need any parts from it, let me know and you can have them really cheaply.
Photos
Click the photos for 1024x768 full-size images.